I was honored to be interviewed recently on the global Christian TV network, 3 Angels Broadcasting Network. That program aired on Sept. 12, 2021. You can watch the replay on YouTube RIGHT HERE.
This page contains the references and documentation for the main points discussed in the interview, as well as additional resources you can access, specifically related to the topic of Infection, Prevention, and God's Pathway to Health. I will be updating with new information regularly, so feel free to check back!
Disclaimer: All information shared is accurate to the best of my knowledge but is for educational purposes only. Consult your health care provider for any diagnosis or treatment needs. See full disclaimer here.
Resource List
Infection Prevention and Treatment:
Supplement dosages, a whole video series, videos of hydrotherapy treatments and more from Dr. Sandoval at Uchee Pines
Beyond the Mask – a digital cookbook chock full of plant based recipes to help boost your immune system! The downloadable PDF is beautifully illustrated and is easily accessed on your phone, tablet, or laptop computer.
Handout on 10 Free Things to Do for Infections – This includes instructions for the hot and cold contrast shower, hot foot bath and other hydrotherapy treatments as well as other simple remedies.
Learn to do Hydrotherapy from the experts – online and from home! HydrotherapyHub.com
Boost Your Immune System in 7 days! – Online course
Early Treatment for COVID
***Handout on early treatment of respiratory infections, especially viral ones. This link will take you to the download page.***
Supplement dosages, a whole video series, videos of hydrotherapy treatments and more from Dr. Sandoval at Uchee Pines
iMASK+ Early Outpatient Treatment for COVID-19 protocol from Frontline Covid-19 Critical Care Alliance doctors. You can take this, along with the research to back it up on the same website, to your care provider.
How to use Herbs for Immune Support in COVID infections, well researched info. From Randall LaCelle with Herblia.com
Diabetes and Diet:
Diabetes Reversal Master Class – FREE. Just click on this link.
Art and Science of Plant-based Cooking for optimal insulin sensitivity. Online classes every month! Get on the wait list so you know when the membership opens again later this month.
God's Plan for Health: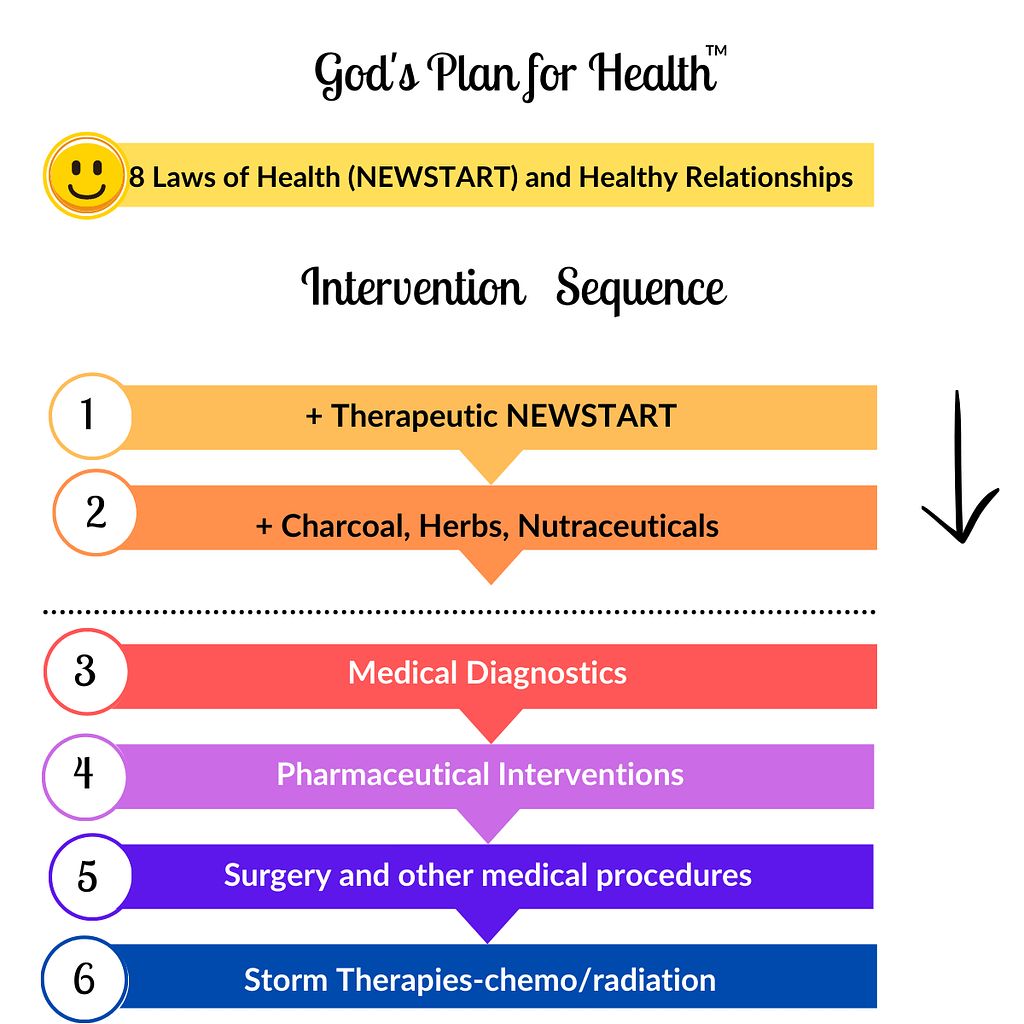 References
Impact of Infection on lost work and child care expenses – 1.5 million people/month called in sick in 2020. http://(https://www.usatoday.com/story/money/2021/01/21/covid-19-workplaceabsences- surge-2020-due-illness-fears/6585474002/)
Many U.S. citizens have pre-diabetes or diabetes. More than 1 in 3 have pre-diabetes. More than 1 in 10 have diabetes. https://www.cdc.gov/diabetes/basics/prediabetes.html. https://www.niddk.nih.gov/health-information/health-statistics/diabetes-statistics
Phases of COVID-19 Infection – Excellent Symposium on YouTube HERE.
The power of the will is not valued as it should be. Let the will be kept awake and rightly directed, and it will impart energy to the whole being, and will be a wonderful aid in the maintenance of health. It is a power also in dealing with disease. Exercised in the right direction, it would control the imagination, and be a potent means of resisting and overcoming disease of both mind and body. By the exercise of the will power in placing themselves in right relation to life, patients can do much to co-operate with the physician's efforts for their recovery. There are thousands who can recover health if they will. The Lord does not want them to be sick. He desires them to be well and happy, and they should make up their minds to be well. Often invalids can resist disease simply by refusing to yield to ailments and settle down in a state of inactivity. Rising above their aches and pains, let them engage in useful employment suited to their strength. By such employment and the free use of air and sunlight, many an emaciated invalid might recover health and strength.

—The Ministry of Healing, 246 (1905)